The Varda and Boaz Dotan Research Center in Hemato-Oncology, Tel Aviv University events
Hematological Malignancies Research Horizons - The 4th Dotan International Symposium | 1.3.2022 | Yaglom Hall, Senate Building Tel Aviv University
At the end of two years of the COVID-19 pandemia the Dotan center held its 4th Dotan international symposium at the Tel Aviv University campus. The establishment of the Dotan center in 2014 by the generous donation of Varda and Boaz Dotan, has fostered advanced research of hematological malignancies.
After seven years of research activity and over 40 projects supported by the center, the 4th international symposium was an excellent opportunity to present some of the projects that matured during this period. Ten scientists from Tel Aviv University and from the affiliated medical centers, were joined by five renowned international scientists that presented their current research projects.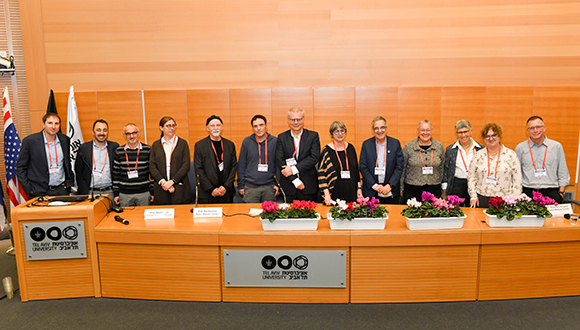 Dotan Conference 2022
Over 150 scientists, physicians and students attended a face to face meeting that was first of its kind in the past 2 years. We are grateful for all our distinguished speakers who presented outstanding achievements and to all our guests who attended the event. We hope that as in the previous meetings, this event would result in collaborations between Israeli investigators and their colleagues from leading international institutions.
Moreover, after two challenging years that prevented having face to face meetings, we have no doubt that direct meetings between physicians and scientists with different expertise in the field, ultimately improve care of patients.